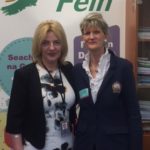 Rendez-vous du 24 janvier 2018 au Parlement Européen suite au mailing que nous avons fait.
Résumé de mon rendez-vous avec Madame Liadh Ni Riada, Parlementaire Européen pour l'Irlande, Madame Carmen Hilario, conseiller politique et Monsieur Kevin Lally, assistant.
Madame Ni Riadi est très bien au courant de la problématique de Lyme dans son pays, mais également ailleurs. Un jour elle était dans sa voiture et elle écoutait la radio quand un jeune homme expliquait son parcours de combattant lié à la maladie de Lyme et cette histoire l'a touchée profondément. Du coup elle a pris contact avec cette personne et elle a commencé à se rendre compte des problèmes que nous les malades de Lyme peuvent rencontrer au quotidien. J'ai pu constater que c'était vraiment un sujet qui lui tenait à cœur. Et il y avait une grande empathie envers les malades Lyme.
Le résultat est qu'elle veut nous suivre dans l'idée de faire une résolution Lyme pour l'Europe !
Moi de mon côté, je continue à sensibiliser d'autres Parlementaires Européens du même parti, mais également d'autres partis pour qu'ils votent tous ensemble cette résolution !
Voici la résolution votée le 10 septembre 2018 en Commission ENVI et le 15 novembre 2018 en séance plénière !
——————————————————————————
Afspraak op 24 januari 2018 in het Europees Parlement ten gevolge van onze mailing die we deden.
Samenvatting van mijn ontmoeting met mevrouw Ni Riada, Europees Parlementariër voor Ierland, mevrouw Carmen Hilario, politiek adviseur en de heer Kevin Lally, assistent.
Mevrouw Ni Riadi is zich zeer goed bewust van het probleem van Lyme in haar land, maar ook elders. Op een dag was ze in haar auto en ze luisterde naar de radio en er was een jonge man die zijn manier van vechten tegen de ziekte van Lyme uitlegde en dit verhaal heeft haar diep geraakt, waardoor ze contact heeft opgenomen met die persoon en zo inzicht heeft gekregen in de problemen waar Lyme-patiënten dagelijks mee te maken hebben. Ik kon zien dat het echt een onderwerp was dat haar nauw aan het hart lag. En zij heeft heel veel empathie voor de zieken met Lyme.
Het resultaat is dat zij ons wil volgen in het idee om een Lyme-resolutie voor Europa te maken !
Van mijn kant blijf ik de andere Europarlementariër van dezelfde partij sensibiliseren, maar ook van andere partijen om op deze resolutie te stemmen !
Zie hier de resolutie gestemd op 10 september 2018 in de Commissie ENVI en op 15 november in de plenaire vergadering !
http://www.lyme-int.com/al/nl/blog/2018/07/25/resolutie-amendementen-lyme-europa/
———————————————————————————
Appointment on 24 January 2018 in the European Parliament as a result of our mailing we did.
Summary of my meeting with Mrs Ni Riada, European Parliamentarian for Ireland, Mrs Carmen Hilario, Political Advisor and Mr Kevin Lally, Assistant.
Ms. Ni Riadi is very aware of the problem of Lyme in her country, but also elsewhere. One day she was in her car and she listened to the radio and there was a young man explaining his way of fighting Lyme disease and she was very moved by this story. She has contacted this person and she has become aware of the problems that Lyme patients may encounter on a daily basis. I could see that it was really a subject that touched her deeply. And she has a great empathy for Lyme patients.
The result is that she wants to follow us in the idea of making a Lyme resolution for Europe !
For my part, I keep alerting other Members of the European Parliament from the same party, but also from other party to vote for this resolution !
Here is the resolution that has been voted in ENVI Committee on september 10, 2018 and in plenary on november 15, 2018.