Manual extraction, or tweezers, rarely allows complete extraction of the tick. The head that stay frequently fixed in the skin is often the source of a local infection.
The tick twister from O'TOM is the easiest, fastest, most effective and least dangerous way to remove all ticks, large or small, regardless of their location.
Quick, easy, painless and reusable, the O'Tom instrument makes it possible to remove ticks with their heads and this without pressing the ticks, which reduces the risk of injecting diseases.
Do not place any substances on the tick before removing it !
Manuel
Choose the most appropriate O'Tom tick twister for the size of the tick that must be removed.
Engage the O'Tom tick twister Hook slot at the base of the tick against the skin, approaching the tick from the side until it is held.
Raise the O'Tom tick twister and turn as with a screwdriver.
The ticks detach themselves after a few turns.
Immediately after, it is essential to properly disinfect the skin.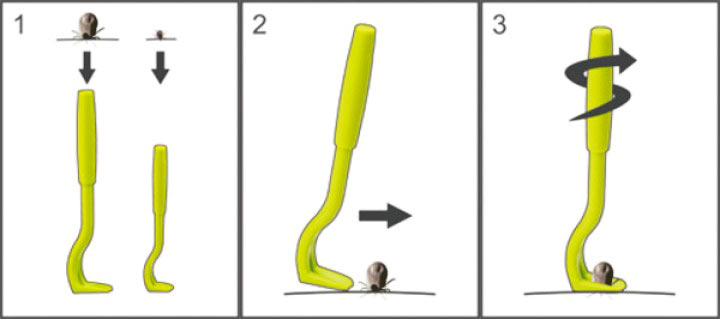 Caution : Although the removal of a tick by using the O'TOM tick twister is minimizes the risk, it guarantees under no circumstances the absence of infections with germs.