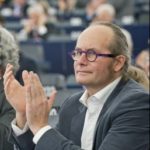 Le 27 septembre 2017 Réponse de Monsieur Turmes Claude
Chère Madame Deglin,
Nous avons bien reçu votre message et nous vous en remercions.
La problématique de la maladie de Lyme est un sujet complexe. Les soins de la santé étant de compétence nationale, l'Union européenne n'a que des moyens très limités concernant le traitement ainsi que les actions prises à l'égard de maladies spécifiques.
Au niveau européen, l'EU health programme soutient la prévention des maladies, la coopération dans le domaine de la santé au-delà des frontières nationales et le partage de l'expertise médicale ainsi que la progression dans les domaines de la surveillance et la réponse quant aux menaces à la santé transfrontalières. Je m'engage à ce que ce programme soit continué de façon conséquente et que les moyens nécessaires soient déployés pour agir, aussi face à la maladie de Lyme. Vous pourriez voir les détails concernant l'EU health programme en suivant ce lien : https://ec.europa.eu/health/programme/policy_en
En espérant que cela a pu, au moins partiellement, répondre à votre question, je reste à votre disposition pour de plus amples renseignements.
Claude TURMES
Member of the European Parliament
————————————————————–
Le 31 juillet 2018 Réponse de Lyme-int asbl
Cher Monsieur Turmes,
Merci beaucoup pour votre réponse.
Entre temps nous avons eu un contact avec Madame Liadh Ni Riada, qui nous a proposé de faire une résolution pour la maladie de Lyme au niveau Européen.
Cette résolution a déjà été voté dans la commission de santé ENVI et va passer au vote en plénière le 10 septembre 2018.
Dans le courant du mois d'aout, nous nous permettons de vous écrire un email à ce sujet avec plus d'informations.
Respectueusement,
Marleen Deglin